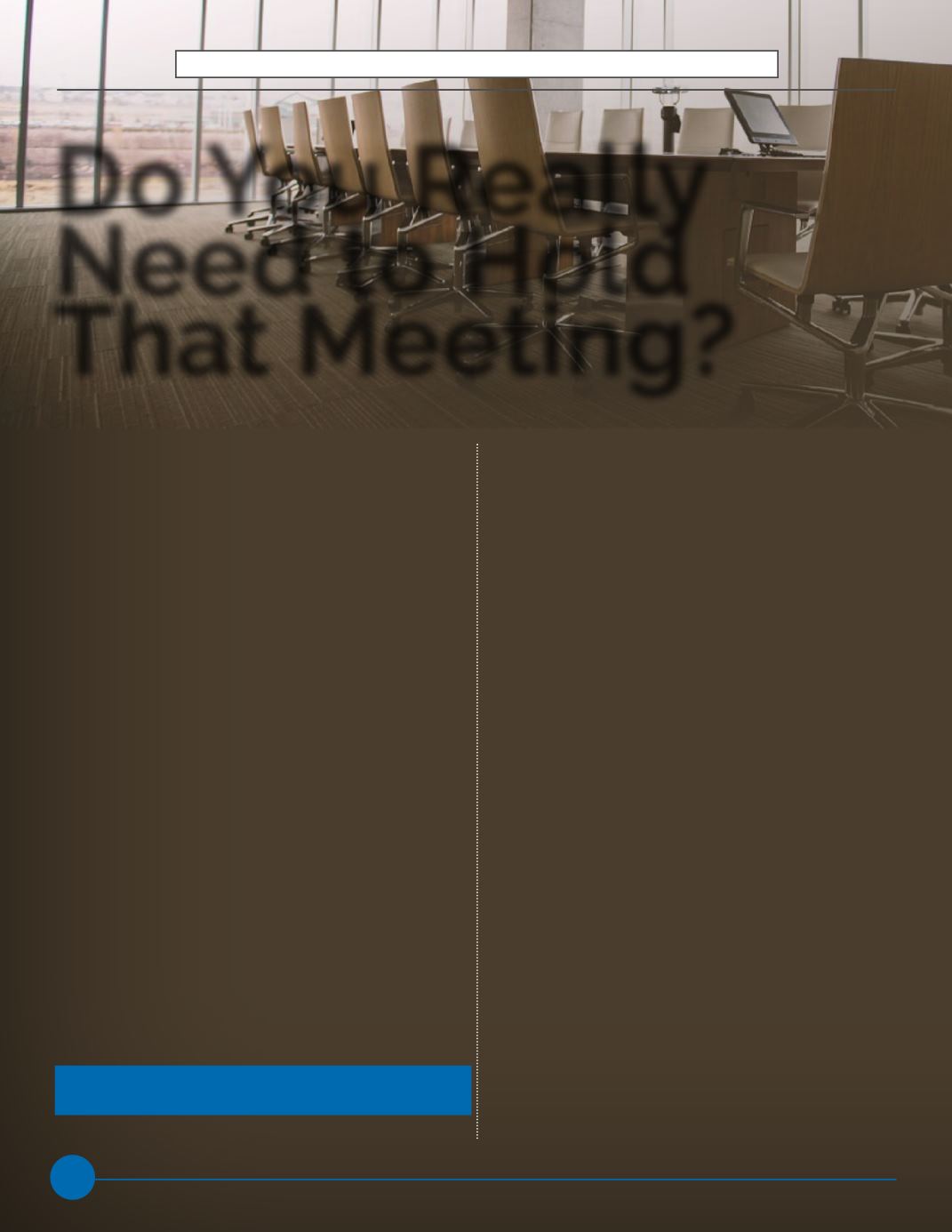 By Cindy Allen Stuckey
Do You Really
Need to Hold
That
Meeting?
I'm going to say the "M" word that everyone
hates—meetings. There are good meetings and
there are bad meetings—really bad meetings.
We've all been in bad meetings—they go on
forever never getting to the point and you
leave wondering why you were even present.
On the other hand, effective meetings leave
you energized and feeling that you've really
accomplished something. According to results
of a Microsoft Office survey, employees spend
5.6 hours each week in meetings and 71% of
respondents felt meetings weren't productive.
Making meetings effective boils down to three
things:
They achieve the meeting's objective
They take up a minimum amount of time
They leave participants feeling that a good
process has been followed.
The next time, before you schedule a meeting,
follow these 4 steps:
Step 1: Ask yourself, "DO I REALLY NEED TO
HOLD THIS MEETING?"
Determine if you can
accomplish what needs to be done by talking
with a key person instead of pulling people into
a meeting; or can you meet virtually?
Step 2: Ask yourself, "WHY DO I WANT TO
HOLD THIS MEETING?
"
What's the purpose of
the meeting; is it a daily check-in, staff meeting,
ad hoc meeting, or quarterly meeting and what
objectives need to be accomplished? Also
determine who really needs to attend, the length
of the meeting, and the time it takes everyone to
prepare.
Step 3: RUN THE NUMBERS
—Time is so
valuable, so figure out how much the meeting is
going to cost. Take a year's salary for 1 person
and divide it by the number of hours worked to
determine the hourly wage. Do that for everyone
involved, you may be amazed. Then shorten the
length allowed for your meeting.
Step 4: If you still think you need to schedule a
meeting, NOW it's time to CREATE A DETAILED
AGENDA.
This should include the meeting's
objective, attendees, length of time, topics,
decisions that need to be made, and prep work
for attendees to complete prior to the meeting.
CLICK HERE TO WATCH MY VIDEO EPISODES
12
SOAR TO SUCCESS
| JUNE 2015 |
Core Business Strategies