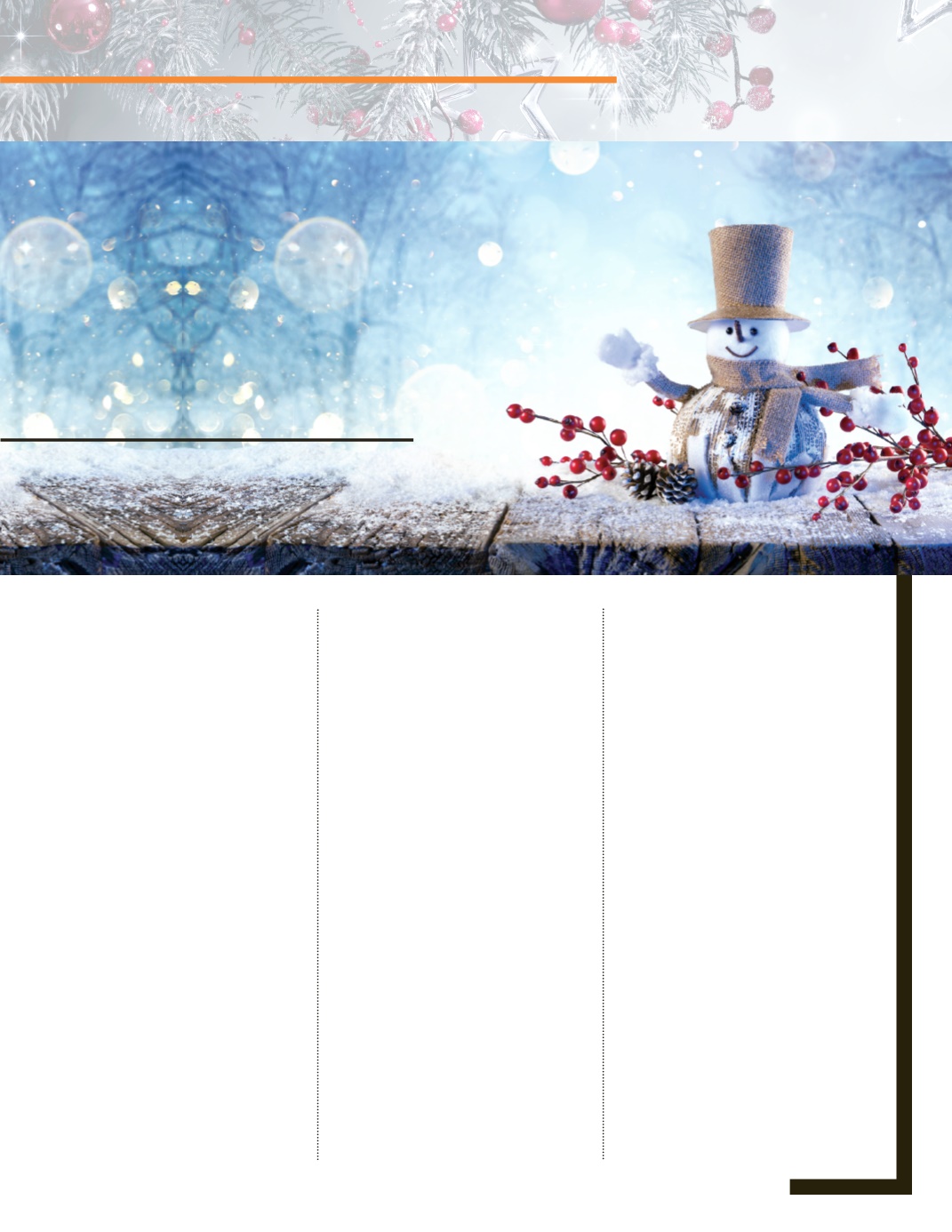 Is Holiday Stress
Inevitable?
By Deitra Hickey
Though it may seem as though
holiday stress is inevitable, in
actuality, you are in control
of your stress management. I
admit, the holiday season brings
a whirlwind of gift-giving tasks,
in-your-face-marketing, holiday
parties and activities galore and
it all begins earlier and earlier
each year which often makes us
feel less and less prepared.
While this season is meant
to bring feelings of love and
cheer, it's also the harbinger of
holiday stress for many. In fact,
the research shows that more
than 80% of us find the holiday
season to be "somewhat or very
stressful". So how do we avoid
wanting to pull our hair out and
instead, bring the joy back into
the holidays?
First, we need to identify what
causes our holiday stress as
it may look different among
individuals. Finding out what
triggers your holiday stress is the
first step towards implementing
change.
Most people stress because
they are Doing TOO Much
Prioritizing
what
needs
done and what you desire to
complete is imperative. If you
have too much on your plate,
even enjoyable activities can
leave us feeling frazzled rather
than fulfilled. For example, if you
usually become overwhelmed
by a flurry of baking, caroling,
shopping, sending cards, visiting
relatives and other activities that
leave you exhausted by January,
you may want to examine your
priorities, pick a few favorite
activities and really enjoy them,
while skipping the rest.
Eating and drinking toomuch
Remember,
everything
in
moderation! With all of the
holiday parties and gatherings,
we tend to eat and drink more
than normal as the holidays
approach. Not only does an
over-indulgence make us feel
sluggish after the fact; weight-
gain during the holiday months
is extremely common and it
often adds to our guilty and
stress-related feelings.
Spending and shopping too
much
Finding your balance with
spending may also help with
your holiday stress. I am not
necessarily referring to simply
the financials (even though
going in debt doesn't help with
stress levels) but rather, the
abundance of time it takes to
purchase gifts for all of the
people in your lives. Consider
focusing on the children and
having a conversation with
friends and co-workers about
doing a holiday lunch or dinner
together in lieu of exchanging
gifts. Or, putting your money
together to donate to a charity
or sponsor a family. Both of
SOAR TO SUCCESS
/
NOV. 2015
/
Personal Growth Strategies