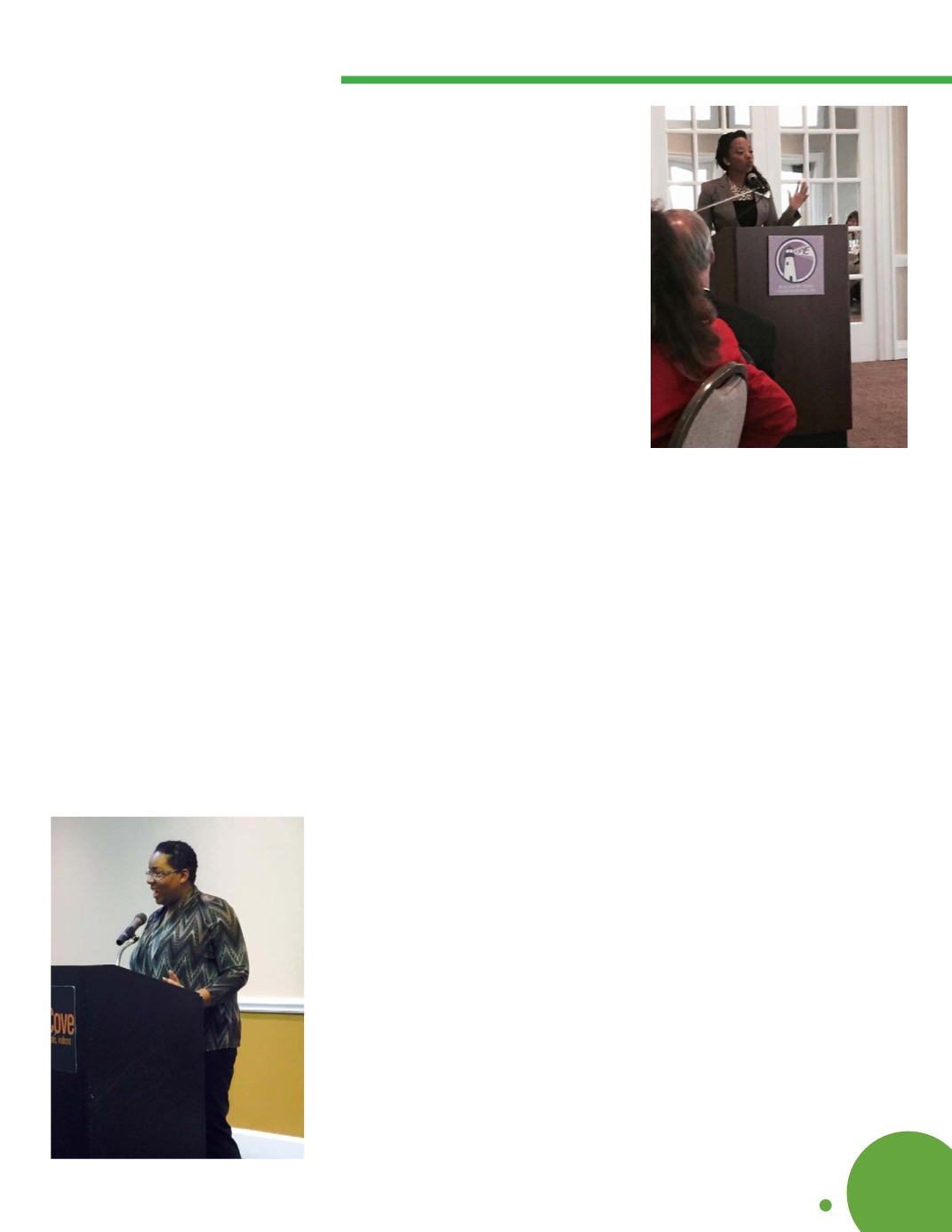 In 14 years she turned
her program into the only
accredited Life Coaching
Institute in southern Arizona
and graduated over 300 women
as life coaches. The significant
difference that her institute
brought to the marketplace was
that she included a business
development program with a
spin on marketing. She not only
taught life coaching skills, but
how to build a business.
When Shamara and her
husband moved to Indianapolis,
she started a life coaching
program for teens called BLING
Sorority. Bling is an acronym that
stands for; Brave, Legendary,
Influential, Necessary and
Gorgeous.
That program eventually led her
to Terry Dove Pittman.
Terry Dove Pittman was the
Authenticating Deputy for the
Indiana Secretary of State.
She worked with foreign
embassies, ambassadors
and the World Court and was
the state's representative for
foreign trade and international
affairs. Exporting procedure
and documentation flowed
through her office. She also
became interested in nonprofits
and found a passion related to
helping them get started with
the proper documentation and
filings.
Terry is a person who loves
paper and documents. She
started a company that dealt
with business services, mainly
document preparation and
paralegal services. They met
because Shamara needed
information about nonprofit
paperwork and filing and Terry's
business provided that service.
In their first meeting they talked
for four hours and haven't
stopped talking since.
The Merit group has evolved
over time. The market led
them to the Strategic Planning
and Consulting Industry. Their
combined skills fit perfectly to
help their clients reach their
business goals.
"Nobody starts out being a
Steve Jobs or Oprah." They have
to work to that point. It's great
when a person comes in with an
idea and that spark in their eye
that says 'I want to do this.' We
help them from that ideation
phase to their sustainable
business, which is operational
and has a defined brand. It's just
awesome to be a part of that
process.
We are like the midwives in
birthing companies, because we
are helping them through all the
hard, ugly parts to get to their
ultimate goal."
Shamara says, "I feel like we
are business doulas."
"I feel like
we are
business
doulas."
"
"
Shamara Cox
5
SOAR TO SUCCESS
/
OCT. 2015
/
FeatureArticle