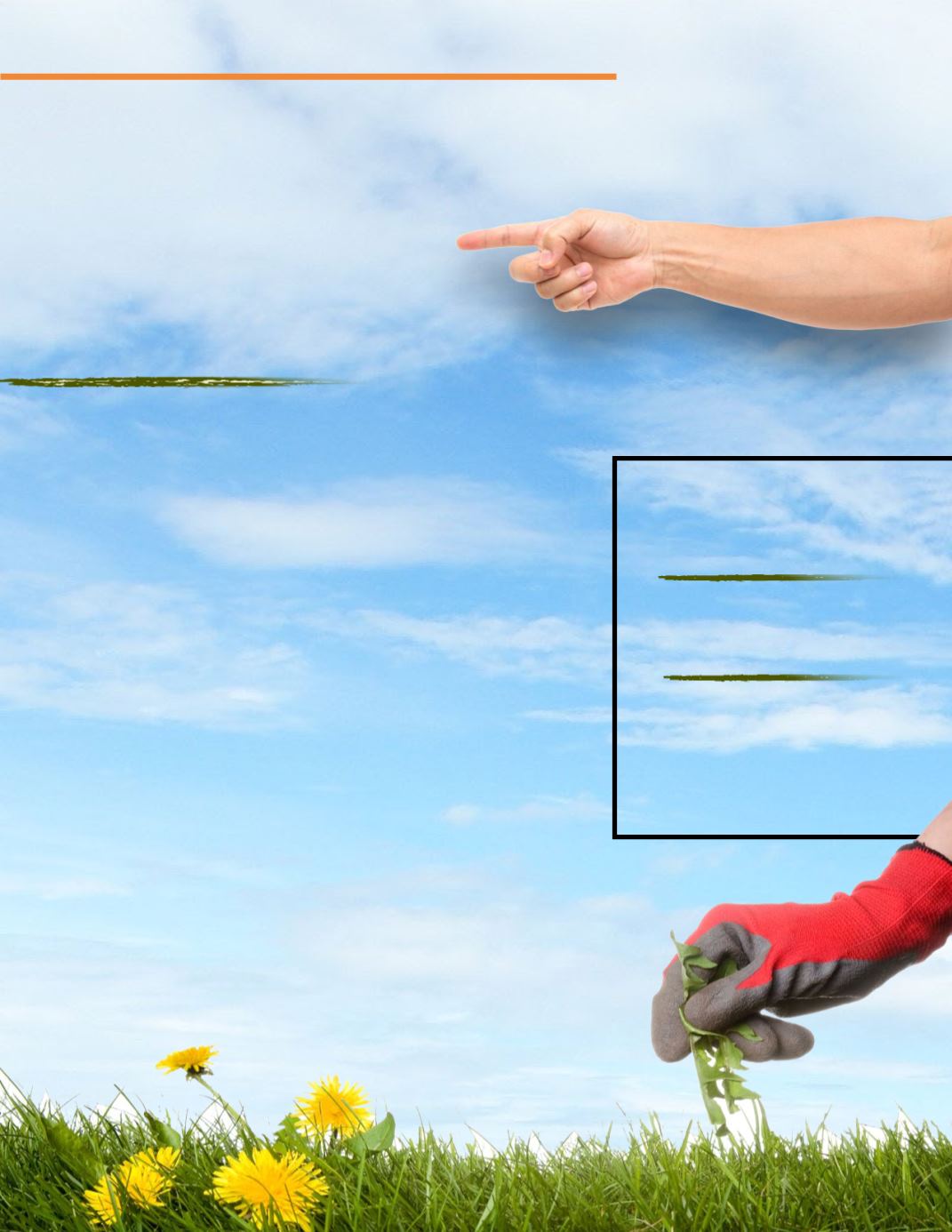 Weed
Your Own
Garden
First
By Jamie Sue Johnson
Look at yourself and ask
where are you tolerating,
suffering, settling or
surviving?
Ask yourself "How am I
spending my time?" Are
you in gossip, or in action
in your own life?
Consider where you have
a draining relationship
and look to see how
you can shift it so you
can enjoy it or choose
another option.
1
2
3
Are you pulling weeds in
someone else's garden?
Wonder what I mean? Let me
use this example to explain it.
I was focused on a person's
problems one day, and I
saw a sign that said, "Weed
your own garden first." In
coaching, I share a practice
that when you point the finger
at someone, there are three
pointing back. Lillian Zarzar
amazing
communications
coach says
"you spot it, you
got it."
So I took that judgment I had
about that person, turned
it around, and I noticed
something interesting.
Those
things that were bothering
me about them were things
that bother me about me!
I
was mad at myself for a few
things, but taking it out on
those around me.
The 3rd pillar, inmy 5 pillars to
success, is family, friends, and
relationships - YUP PEOPLE
So where are you suffering,
settling and surviving with
relationships in your life?
Well, it just might be time,
to take some action to shift
where the relationship is
headed.
For
example,
I
would
frequently argue with a family
member of mine and so I
made a choice not to engage
with themany longer, because
I did not enjoy it. That's the
threefingers backpart. Where
was I tolerating or suffering,
settling, or surviving by taking
those calls? And then taking
more time to complain about
it after the call was over……
what a time waster. I realized
I needed to weed my own
garden first.
Here are three tips to weed
your garden:
SOAR TO SUCCESS
/
F
ebruary
2016
issue
/
Personal Growth Strategies