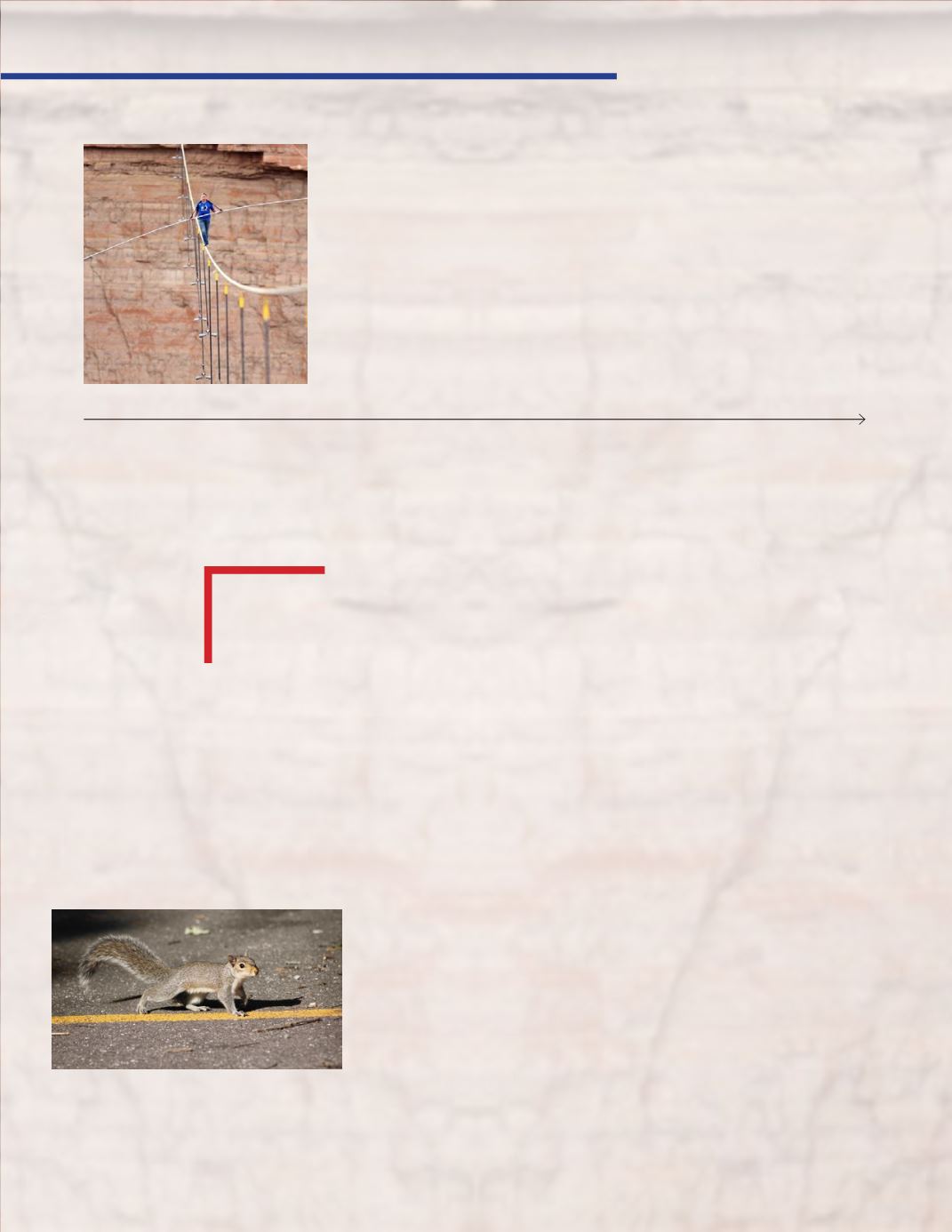 Yes, you are right, it is a strange
title for an article, but there is a
very relevant message for business
owners and entrepreneurs in that
silly title. Let me explain.
It seems that lately I have seen the
unfortunate squirrel flattened in the
street more than usual. Maybe it is
because I have been working on this
article in my head for some time
and maybe it is because the squirrel
does not quite know how to cross
the road.
You have seen it.
Mr. Squirrel decides
to run across the
road. Maybe it is the
thought of all the nuts
buried just 30 feet
across the asphalt.
He begins to run, and
then stops. Maybe he
thinks there might be nuts closer on
his side of the road without having
to risk running across the asphalt
gauntlet. Then he returns to the
original idea and takes a moment
to weigh the risk versus reward and
that is when our friend Mr. Squirrel
meets Mrs. Michelin, or Mr. Firestone
or Mr. Goodyear and that is the end
of Mr. Squirrel.
Then there is the story of Nik
Wallenda. He, like our dearly departed
friend, Mr. Squirrel, likes to cross
things. Who knows exactly why, but
he and his entire family are famous
for it. In contrast to Mr. Squirrel, Nik
sets out with a definite plan. He has
the contingencies and the what-ifs
all planned out in the event there is
a wind that blows up just as he hits
the midway point, like in his latest
crossing of the Grand Canyon. To Nik,
there is no such thing as "unexpected."
No matter the circumstance, Nik
Wallenda is committed. He sees his
plan through from the beginning to
the other end of the rope.
6 Things To Learn From
Squirrels In The Road and
NikWallenda
By Jack Klemeyer
SOAR TO SUCCESS
/
F
ebruary
2016
issue
/
Core Business Strategy