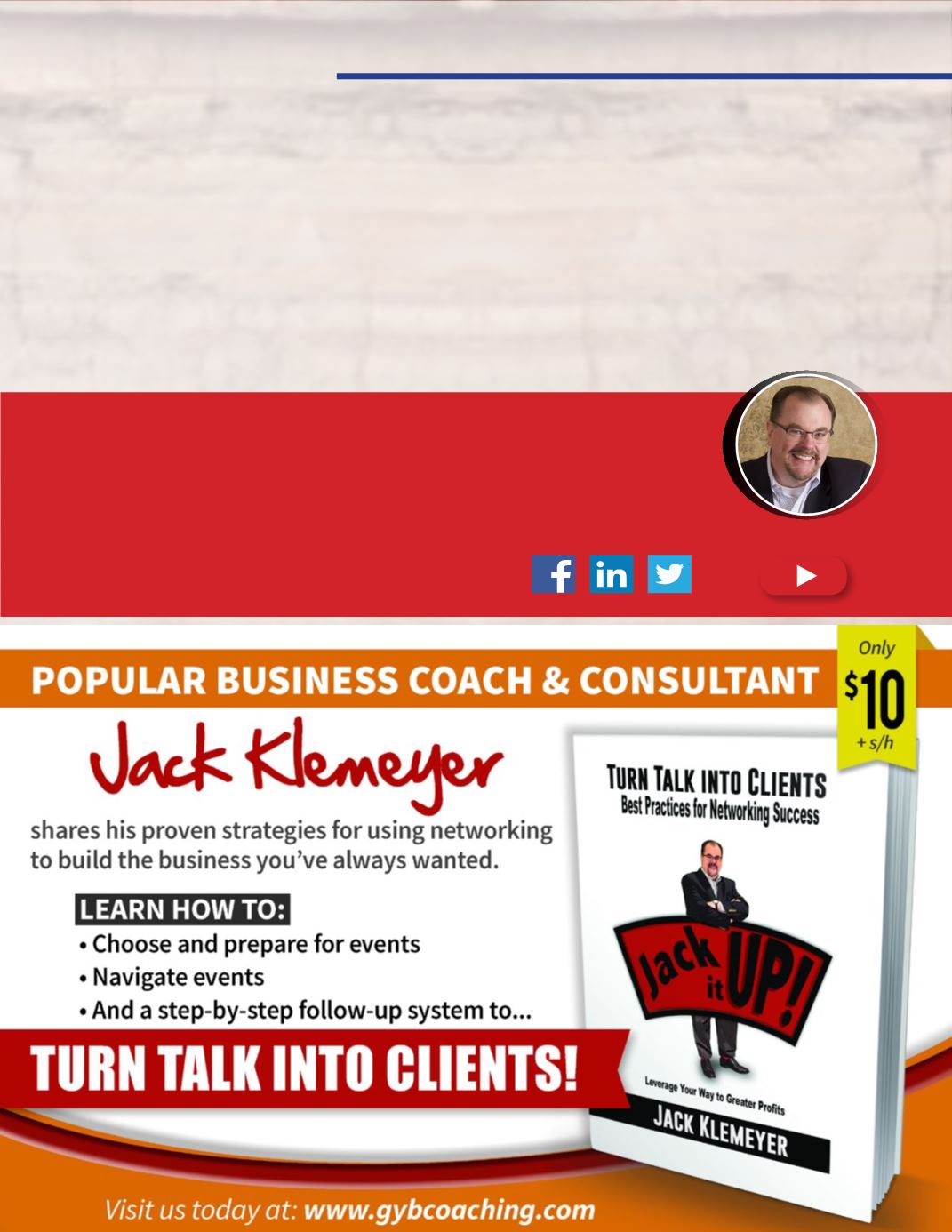 GrowYour Business™Coaching founder Jack Klemeyer is recognized as a preeminent
resource for business professionals. As a John Maxwell Certified coach, speaker,
trainer and facilitator of Mastermind groups for business owners and professionals,
his results-driven philosophy calls for action and accountability. He and his Grow
Your Business™ team are dedicated to taking businesses and their owners to the
next level. Jack can be reached at
Jack@GYBCoaching.com
or at 317-755-6963.
Connect with Jack at
GYBCoaching.com
and on
Watch Jack's video series
Here are the lessons for us as business owners
and entrepreneurs:
1. Have a plan that includes strategies for the
unexpected.
2. Know exactly what you want so when you
get there, you will know for sure you are
finished or have arrived.
3. It is far better to commit and stick to your
plan allowing for unforeseen circumstances.
4. Once you begin, do not look back but
appreciate the ground you have covered
and benefit from every step.
5. Do not look down. Keep your eyes fixed on the
goals you set out to accomplish from the very
beginning.Keepyourheadupandmoveforward.
6. Hesitation is the death of squirrels in the
road and in business. Get moving.
As the late Jim Rohn said, "You can learn from
both the beholds and the bewares. Choose
wisely." Pick the path of Mr. Squirrel and you
will be lucky if you make it. Pick the path of Nik
Wallenda and you, too, will reach the end of the
rope and be ready to step into new opportunities
and possibilities.
SOAR TO SUCCESS
/
F
ebruary
2016
issue
/
Core Business Strategy