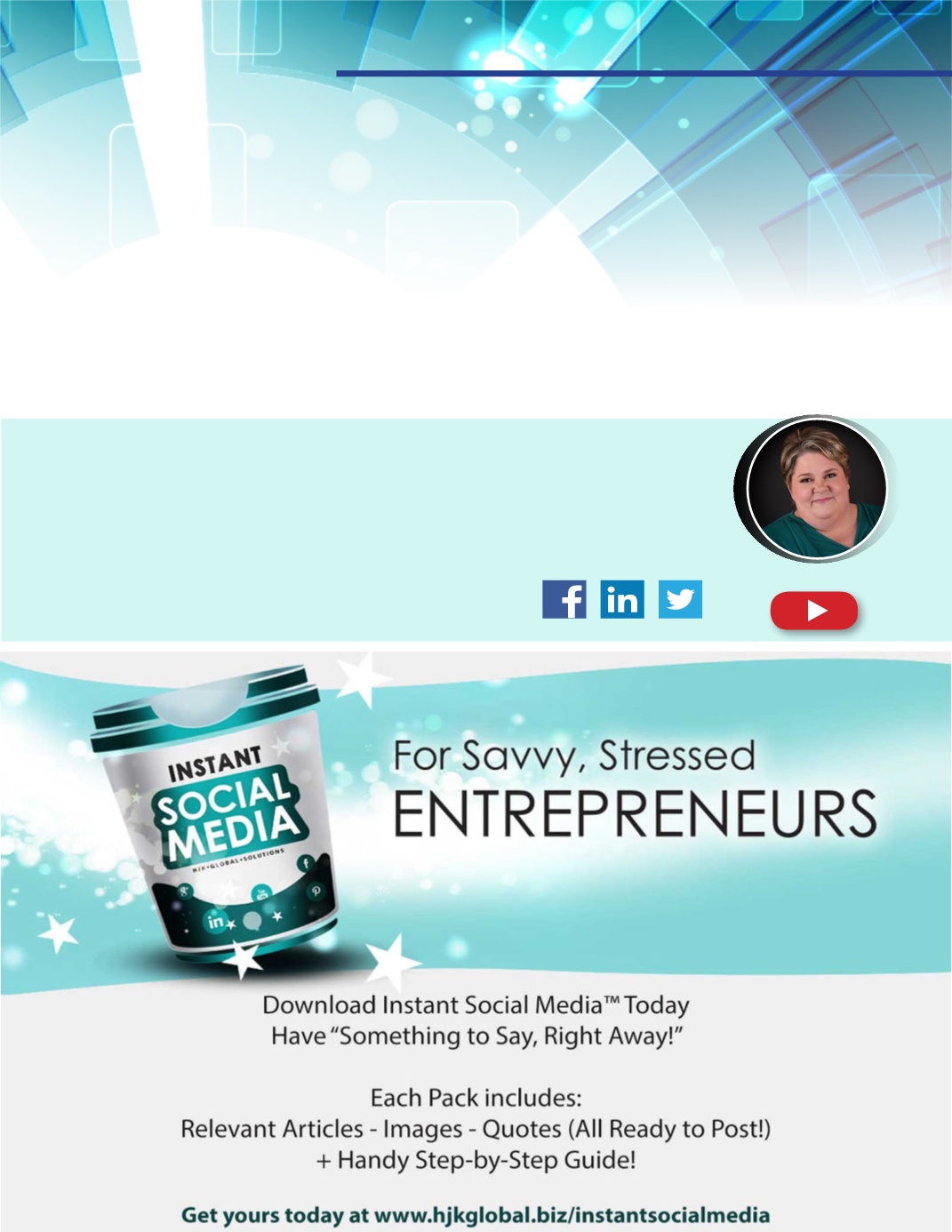 Holly Kile works with professional coaches and work-at-home entrepreneurs to help
them create more time, energy and money through leveraging the power of virtual
tools and teams. Using her extensive background in operations management,
systems analysis/implementation and strategic business marketing, Holly works
with business owners and entrepreneurs who struggle with figuring out how to
effectively achieve their vision for their business. Holly is the president of HJK Global
Solutions and founder of Connect Coaching Academy.
Connect with her at
HJK Global Solutions
and on
Watch Holly's video series
extremely important to me.
The R is for
Realistic Boundaries
.
Earlier I referenced a 5 page
output in a project. Make sure
you set a boundary – or you can
look at it as an expectation – as
something realistic. You don't
want to stress yourself out trying
to achieve something that's not
possible and you don't want to
set up false expectations with
your client or family. Nobody
wins in that scenario.
The final piece is to
Talk about
Them
. Once you set your
boundaries, you need to share
them with anyone that they
impact. If you set boundaries
with your work availability, let
clients know and then stick to
them. Once they have been
made aware of the boundaries
then you can enforce them. If
you keep them to yourself, you
can very well expect them to
honor your preferences, can you?
Using the S.M.A.R.T. acronym
for your boundaries will help
you to set expectations and a
framework for you to achieve
your best work all while avoiding
potential
overwhelm
and
disappointment. For more on
this and other strategies to work
effectively, I invite you to join me
inmy Virtual Bootcamp Program.
To learn more and register for
our next session, visit us at www.
virtualbootcamp.biz
.
SOAR TO SUCCESS
/
J
anuary
2016
issue
/
Core Business Strategy