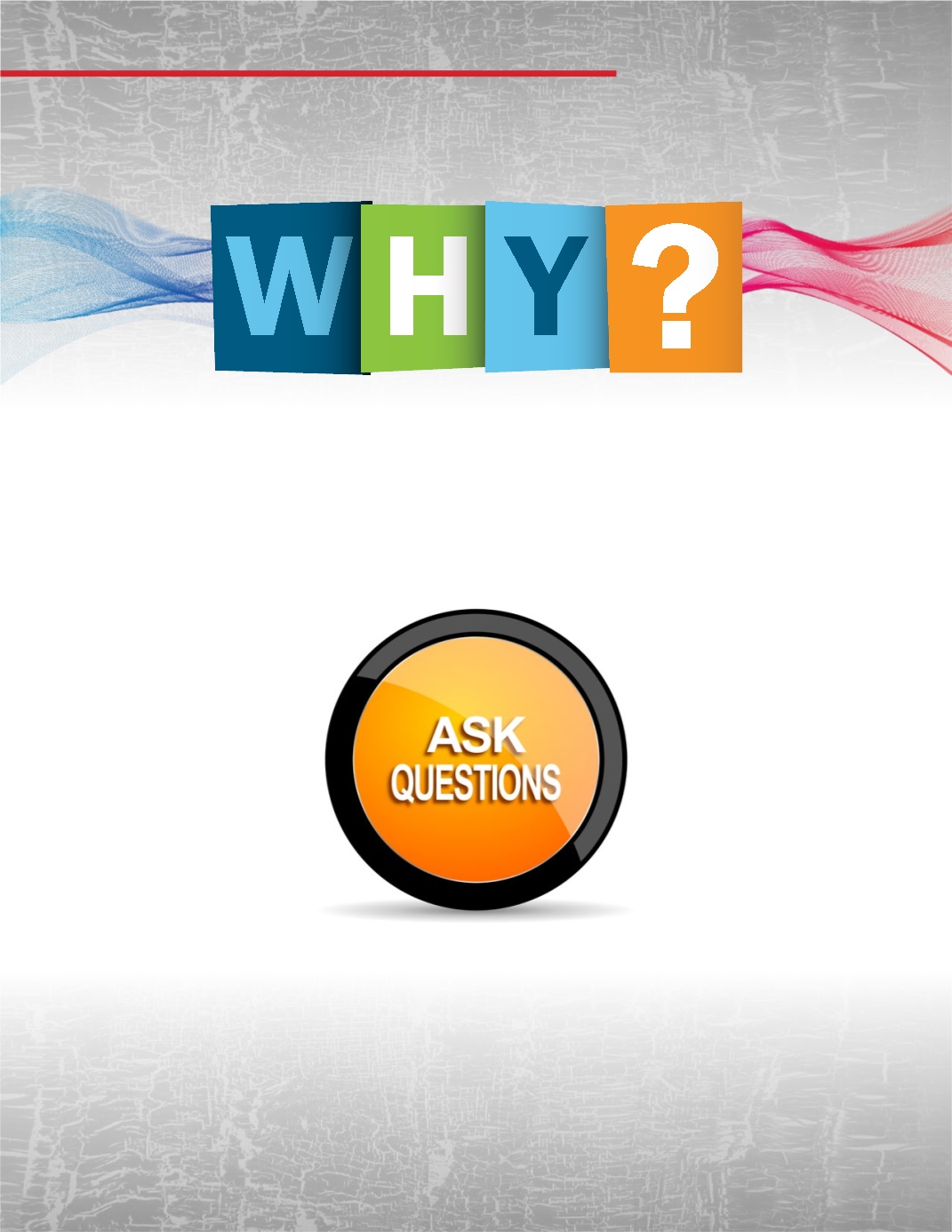 Responses to questions regarding "Why" we
perform personal or professional tasks often,
and predictably, assume financial implications
such as:
• Why do you go to work?
»
»
To provide for my family.
• Why do you work so many hours?
»
»
To make more money or to get
ahead in my company or my
competition so I can do more
business.
• Why do you own your own
business?
»
»
So I can have control of
my income.
• Why do you work the job
that you do?
»
»
It provides the income I
need.
Although all of those reasons
accurately
describe
the
most
basic circumstances behind those
"Why" questions, the likelihood that anyone
will demonstrate the epitome of success
(professional or personal) is derived from
knowing their deeper "Why." Certainly, we all
need an income to survive and finances are
always a component of success, but
it shouldn't
be the only factor.
Partners in a business, coworkers performing
the same job, or siblings in a family business
will always have their own unique perspective
of their deeper, "Why." An individual's, "Why" is
also likely to further develop over time as their
personal goals and lives evolve.
The overarching question to ask then is;
How do
we keep our "Why" at the focus of our attention
when we live such busy chaotic lives?
•
Write down your "Why(s)."
Everyone should have many
"Why's" listed for business,
professional
growth,
personal
and
family
outlook.
•
Reflect regularly on
your "Why's". Keep them
where you can view them
on a regular basis andwhen
you begin to question your
"Why" it will be available at
your fingertips as a reminder.
•
Revise your "Why (s)"
once you feel you've achieved the
success you set out to achieve…NOT
because you've hit an obstacle in the road.
Tell your spouse, friend, business partner, or
family member of your "Why's" so when times
get tough, they can be a support system and a
reminder of your "Why."
Come up with a list of "Why" questions that are
significant to your life and dig deep to ascertain
the answers. Explore deeper and beyond the
Always Know Your DEEPER
By The Merit Group
SOAR TO SUCCESS
/
J
anuary
2016
issue
/
Business Acceleration Strategies