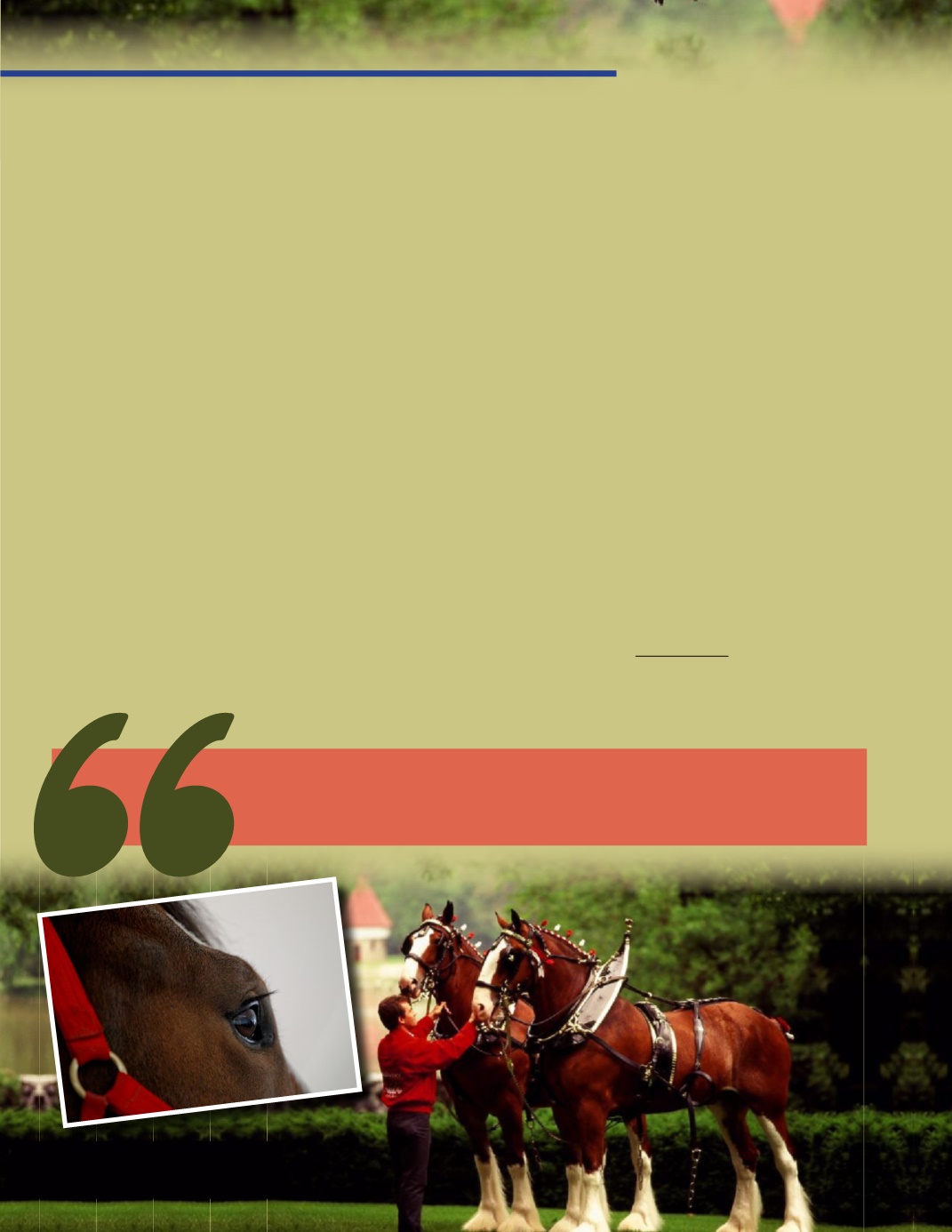 Effective Leaders and the Trainer
of the Budweiser Clydesdales
Recently a friend posted a
video on Facebook showing
how the Budweiser Clydesdales
are trained to do things like
play
football
(remember
that awesome Super Bowl
commercial a few years ago?).
Their trainer uses mostly two
methods and the first brought
to mind something as leaders
we often don't do enough of –
praising others when they do
something right.
The Art of Acknowledgement is
key in leading people. When we
acknowledge a person we are
calling forth what is true about
that person. For example:
"Excellent presentation this
morning Steve. It's obvious
this project is very important
to you" or "I see where you
worked late last night to finish
the proposal, Maria. Your
commitment and enthusiasm
are greatly appreciated." Notice
it's not about what they did,
but
what you see to be true
about them.
They value their
work, they are committed, and
enthusiastic.
An acknowledgement is not
a compliment.
A compliment
is something you admire about
a person and they are easy for
people to shrug off – "Nice tie,
Sam" – "Oh, it's an old one."
One of the key things about
acknowledgement
is
that,
because it is what the person
knows to be true, it sets the
stage for trust. The person you
acknowledge relaxes and is then
moreapt toaccept your guidance.
Rick
Hansen,
author
of
Hardwiring Happiness, reminds
us that our brains have a built
in negativity bias. Given any
situation we immediately see
what is going wrong. It is a
normal and natural response.
As leaders we need to remind
ourselves to look to see and
acknowledge what an employee
is doing right.
A Globoforce research study in
2013 showed that 89 percent
of people are more motivated
An acknowledgement
is not a compliment.
By Joan Washburn
SOAR TO SUCCESS
/
J
anuary
2016
issue
/
Core Business Strategy