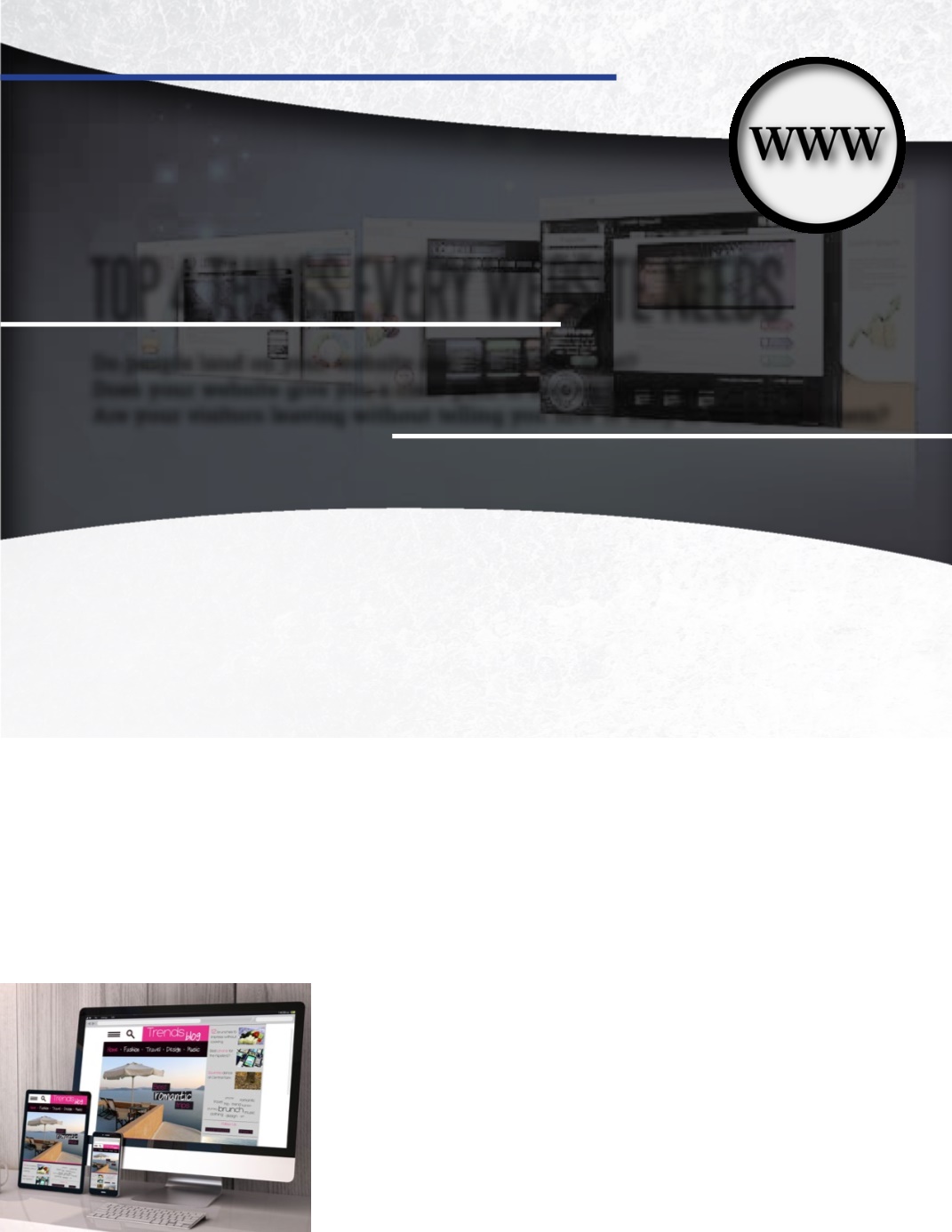 Remember, you don't want
your website to be just an
online brochure, you want it
to be a sales generating, client
attraction machine. Compare
your website to the following
four most important elements
every website needs to generate
leads and keep your ideal
people coming back and see
how it stacks up.
Tip number 1,
A CLEAR PERSUASIVE MESSAGE
Studies show you have 3-5
seconds to tell your visitors
what your site has to offer. You
need to start with a clear and
simple headline. It's important
to let your customer know right
away why you're a better choice
to do business with over your
competition.
I tell my clients to forget about
buzzwords and industry jargon
and use words that make sense
to your customers. For example,
you don't see a photographer
talking about lighting and film
speed. Instead, they talk about
capturing memories.
Tip number 2,
GIVE THE VISITOR WHAT TO
DO NEXT
If you have a site that has lots of
information but doesn't tell your
visitor what to do next, you're
losingmoney. This doesn't need to
be complicated. It canbe as simple
as call me, buy now or learnmore.
Be persuasive but not elusive.
The action should encourage
your visitor and lead them down
a particular path.
Tip number 3,
EASY NAVIGATION including
your menu bar
We all know people aren't as
patient as they used to be, so it's
important to make everything on
your website easy to find. Many
people choose to put every page
in their navigation bar.
Studies
show
too
much
information overwhelms, and
your visitorswon't takeanyaction
when they're overwhelmed.
You don't people leaving your
site because they have too many
choices. I recommend you keep
you the choice between five and
seven items in your navigation.
Top 4 Things Every Website Needs
Do people land on your website and think what next?
Does your website give you a clear path to buying from you?
Are your visitors leaving without telling you how to keep in touch with them?
By Lee Drozak
SOAR TO SUCCESS
/
M
arch
2016
/
Core Business Strategy