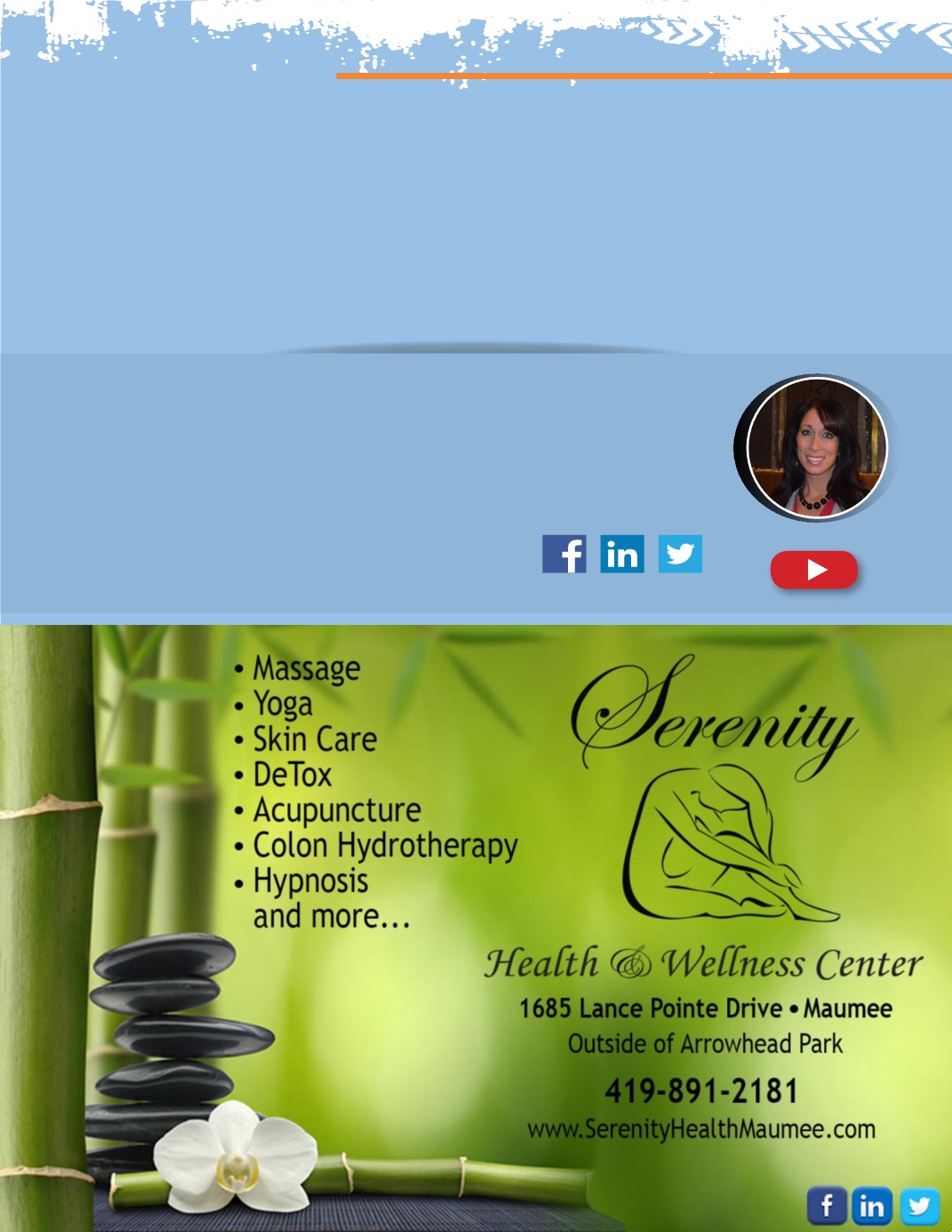 fulfilled--take a close look and see what changes
you can make either within your organization or by
transitioning completely. It takes courage but you
won't be sorry!
Lastly, your quality of life:
In addition to your
relationships and careers, this is going to include
your health, your mental peace, your perspective
and your life balance. Make sure you are honoring
and listening to your body. Give it what it needs
and remove what may be contributing to any
ailments, fatigue or mood. It may be getting more
sleep, eating healthier, committing to quit smoking
or lose weight, or taking up that hobby you have
always wanted to try; it may simply be to
schedule
some quality time for rest and relaxation in your
daily life. Whatever it is, remember, you deserve it!
To talk more about this or for more information,
call Serenity Health & Wellness Center at 419-891-
2181. You may also visit
SerenityHealthMaumee
.
com or
DeitraHickey.com
Dr. Deitra Hickey has a passion to help others find balance and reduce stress
through her motivational speaking and wellness professional developments. She
enthusiastically brings humor and real-life analogies to her audiences in a powerful,
relatable manner. Deitra developed strong will and resilience early on by taking
care of two paralyzed parents after witnessing both of them being shot. Deitra
dedicated her life encouraging others to capitalize on life's challenges to reach their
maximum potential.
Connect with Deitra at her business,
Serenity Health an
d
Wellness Center
,
her website
and on
Watch Deitra's video series
SOAR TO SUCCESS
/
M
arch
2016
/
Personal Growth Strategies