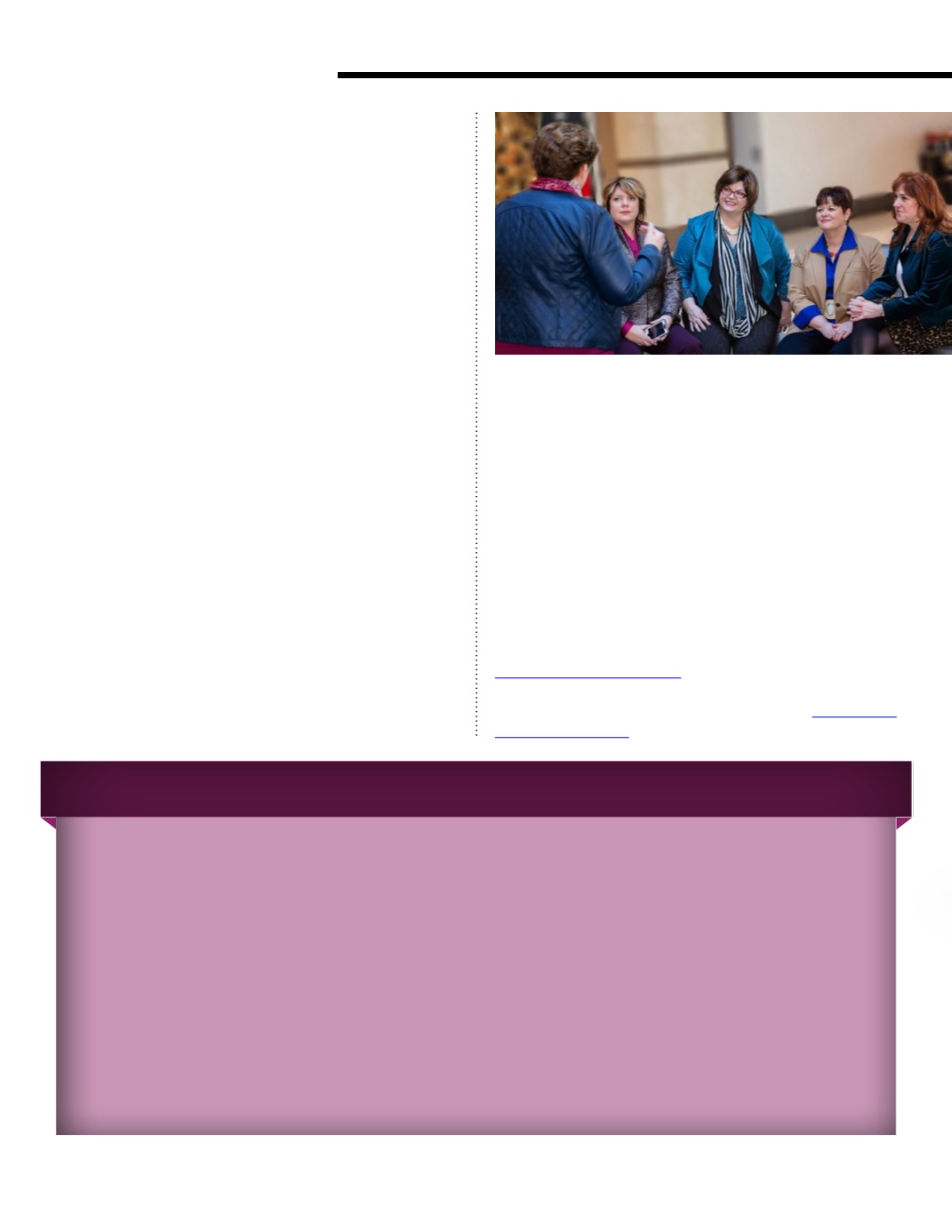 operating on a daily position of strength. It is so
easy to get overwhelmed, with being a business
owner, a volunteer, and a parent. There is so
much that can derail you on a every day. I've
been fortunate that I work with a great coach
and believe every coach needs a coach."
Megan's one piece of advice for business people,
Be a sponge!
Take every opportunity to network,
learn fromothers and evenmeet your competitors.
Most people are willing to open up about their
business, talk about their successes, as well as,
their failures and offer advice. People love to be
seen as mentors to someone who is just starting
out. So, be a sponge and soak it all up.
Megan is very secure in her personal and business
life right now and loves the flexibility working in her
own business provides. She has control over what
clients she accepts and still has the opportunity
to help her community by serving on a various
nonprofit boards. She can even take time to be
involved with her children's school activities.
She has one child attending college, one ready to
enter college next year and her youngest will start
high school.
"It's a very exciting time, personally, watching
my kids turn into adults, the next stage in their
lives. It's been fun to be with them on that
journey. My husband is extremely supportive
of my career. He is my biggest supporter and
advisor. He's successful in his own right and
in the evening you'll find us talking about our
business or other companies that we're familiar
with. It's just a lot of fun right now."
Megan Patton has accumulated a wonderful set
of experiences and memories. Her business is
growing and she can't wait for what tomorrow
brings, as she continues to "Soar to Success."
To learn more about Megan and her business visit:
www.ODAStrategy.com
.
To contact her directly, either email:
mpatton@
odastrategy.com
or phone 440-655-4755.
When Soar to Success asked Megan what three traits
she has found in successful people that "Soar to
Success", she listed three important features.
The first trait is
honesty and humility
. Many people
give lip service to those two important items, but
Megan believes that they are clear markers for success.
"
When somebody is willing to honestly look at
themselves, understand where their shortcomings are
and have the humility to accept advice, whether it's
from an external coach or from their own staff, that's
a marker for success. People most open to growth,
development, andchangewill ultimatelybesuccessful."
The second important trait for success is
continued
learning
. Every successful person has to have a
passion for learning. They must keep current on
the latest practices within their industry. Trade
publications, conferences, and associations all
become important means of continuing education.
A successful person is active outside of their own
business and keeps abreast of what's happening in
their industry as a whole.
The third trait of a successful entrepreneur is a strong
work ethic
. It is critical that you work hard, keep on
top of your business systems and stay active in your
community.
Three Traits Necessary to Soar to Success
Megan Patton with NAWBO Board Members
SOAR TO SUCCESS
/
M
arch
2016
/
Feature Article