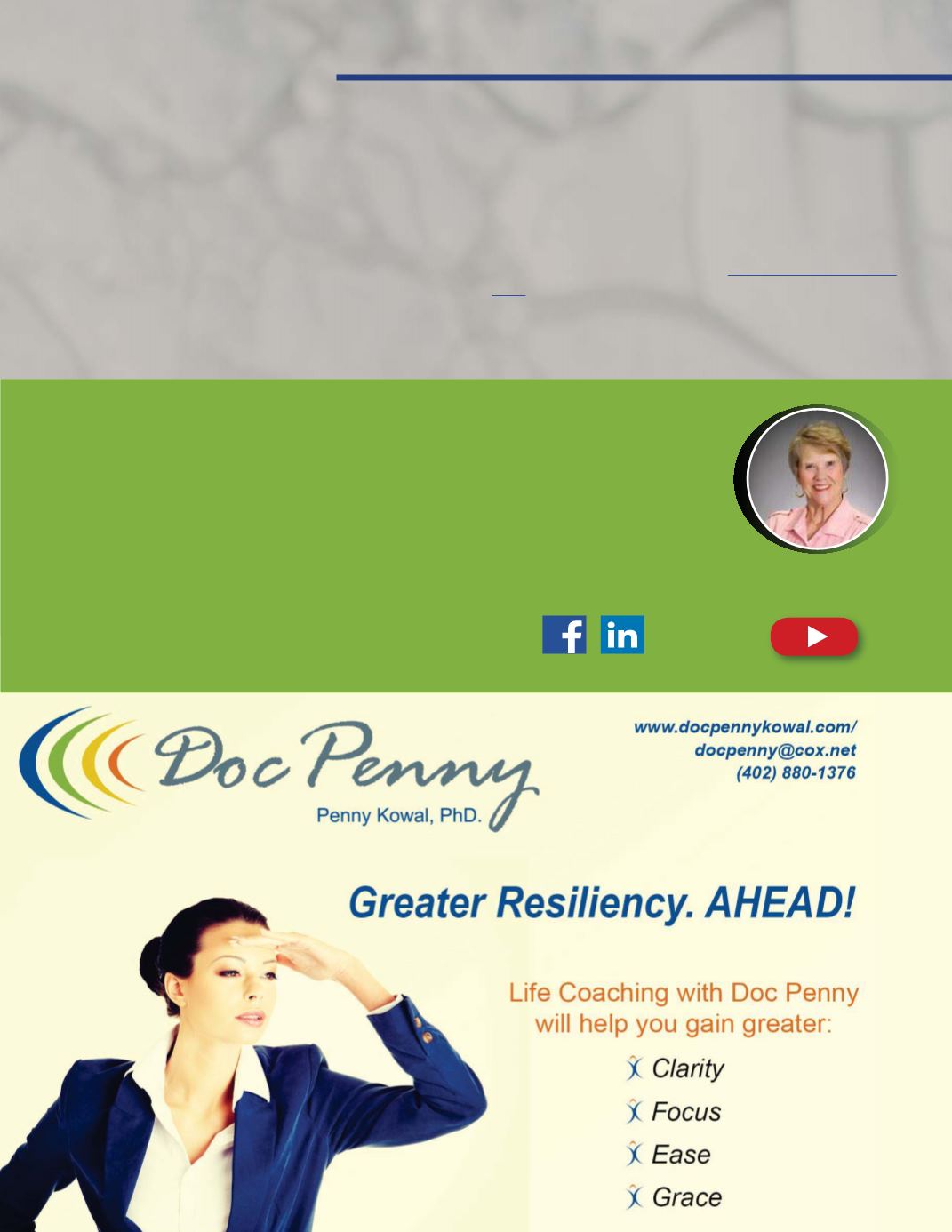 JUHDWHU SRLVH DQG FRQȴGHQFH 0\ UHFRPPHQGDWLRQ
is to start small by practicing with everyday
LUULWDWLRQV OLNH D WUDɝF MDP FOXWWHU D VORZ FRPSXWHU
RU D GHOD\HG DLUSODQH ȵLJKW <RX DUH FKDQJLQJ \RXU
"internal set-point" so that when bigger discomforts
occur, you respond, instead of react.
Starting small helps change your internal "set-
point" gradually. Learning to shift the focus of
your attention and use your inner resources to
successfully cope with your busy day, deadlines,
occasional messy family situations, complicated
relationships or if you just want to have a better
balance between work, family and personal time.
You are increasing your capacity to be resilient in
WKH IDFH RI JUHDWHU GLɝFXOWLHV
There is more information at
www.docpennykowal.
com . If this interests you and you want more
information, please c
ontact me for a Strategy Session.
Penny Kowal coaches busy professionals to re-Invent their life, learn new
ways to recharge their inner battery, become more resilient and able to easily
handle life's unpredictability, uncertainty and constant change.
When we are stressed out, frustrated, unable to sleep, cranky, or cynical, life
becomes overwhelming and unmanageable. With Penny's practical coaching,
clients learn to use simple tools, on the go, to build resiliency in all areas of
life, physically, mentally, spiritually and emotionally. With Penny's support,
clients build a life they will love to live by learning how to intelligently manage
their energy in order to experience better sleep, improved teamwork, better
morale and less stress.
Connect with DocPenny on
her website a
nd also on
Watch DocPenny's
video series
SOAR TO SUCCESS
/
M
ARCH
2017
/
Core Business Strategies