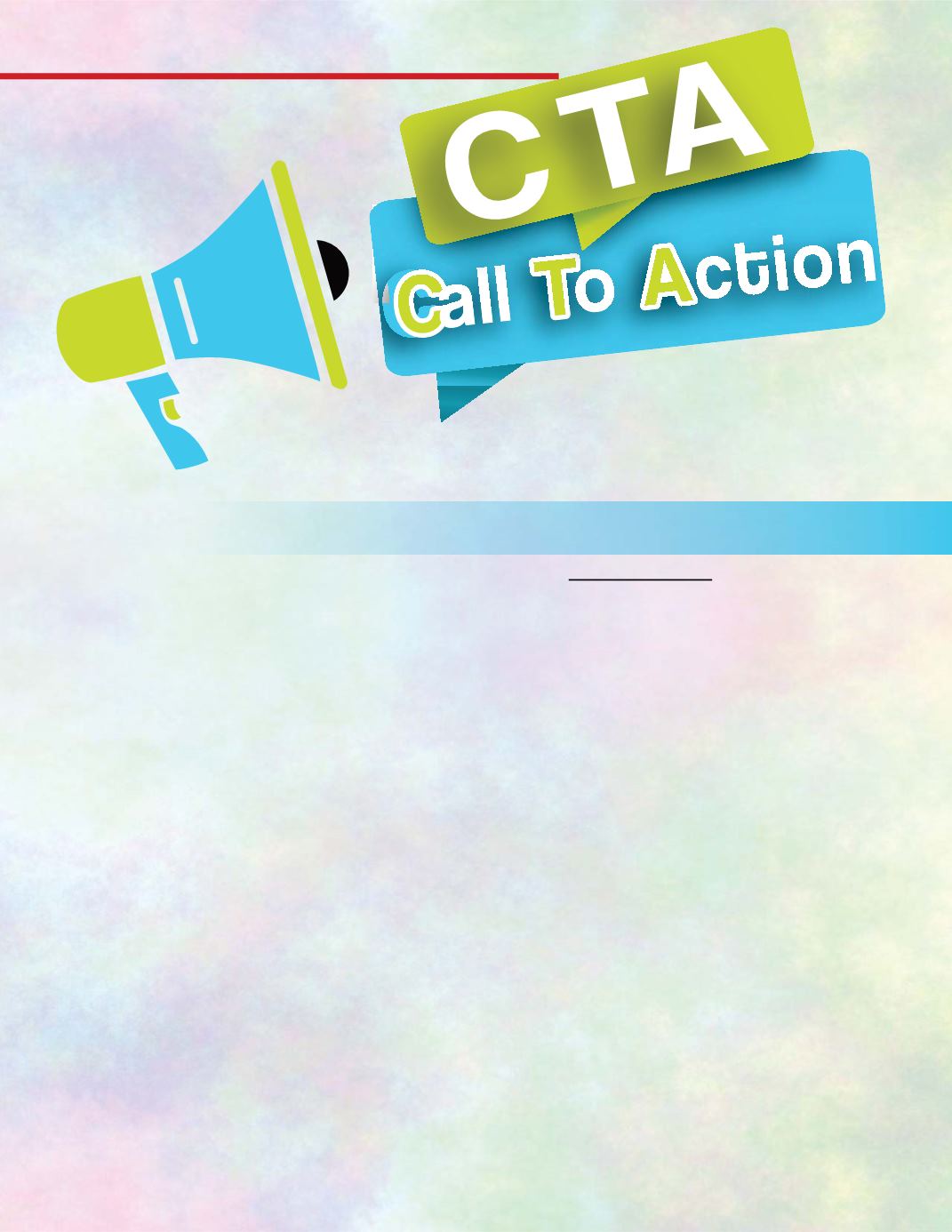 A good call to action, regardless
of the type of content it's
placed in, is basically a request
to deepen the relationship. It
moves the viewer to request
more information or engage with
XV LQ D GL΍HUHQW ZD\ +RZHYHU
as you know, getting prospects
to do what we want them to do
requires a strategy. Have you
noticed that some people leave
shopping carts before checking
out, don't sign up to receive our
killer newsletter and don't even
have the common courtesy to
watch our videos all the way to
the end?
How dare they! Yet,
whose fault is that? Ours, right?
There are two aspects to getting
people to take us up on our call
WR DFWLRQ 7KH ȴUVW LV EXLOGLQJ
desire throughout the content
for them to want to learn more
from us – that's a subject for
another article. The second is the
call to action itself. Let's examine
how to create a powerful call
to action. And yes, there are
powerful calls to action and
there are weak ones.
A weak call to action assumes
people know what to do, such
as, "Visit my website." OK, what
should they do once they get
there? Or another favorite of
mine says something like "Call
me; I'd love to work with you."
Unfortunately, that is much too
risky for most people to do.
Internet users are often concern-
ed about security, privacy, scams,
overload (receiving more emails
perdaythantheycanhandle)and/
or being put in an uncomfortable
position if someone tries to sell
them something.
A powerful call to action almost
always includes the following
three components to minimize
the concerns of the reader/viewer:
1. A statement that reduces
the risk of taking action
. The
ZRUG )5(( ZRUNV RU R΍HULQJ
a no obligation trial. When
writing a call to action, assess
the level of risk that you are
asking the viewer to take
DQG WKHQ ȴJXUH RXW KRZ WR
minimize it to make it easier
for them to take the action.
2. Tell them exactly what
to do.
Make your request
VLPSOH IRFXVHG DQG VSHFLȴF
The call to action should
make only one request.
The more options you give,
the less focused the reader
becomes, and the chance
that they take no action at all,
increases. Then state exactly
the steps that you want them
to take; don't assume they
know what to do.
3. Encourage an immediate
response.
A call to action
should tell the viewer what
SOAR TO SUCCESS
/
M
ARCH
2017
/
Business Acceleration Strategies
BY PAT ALTVATER
CREATE A POWERFUL
CONTENT MARKETING
CALL TO ACTION