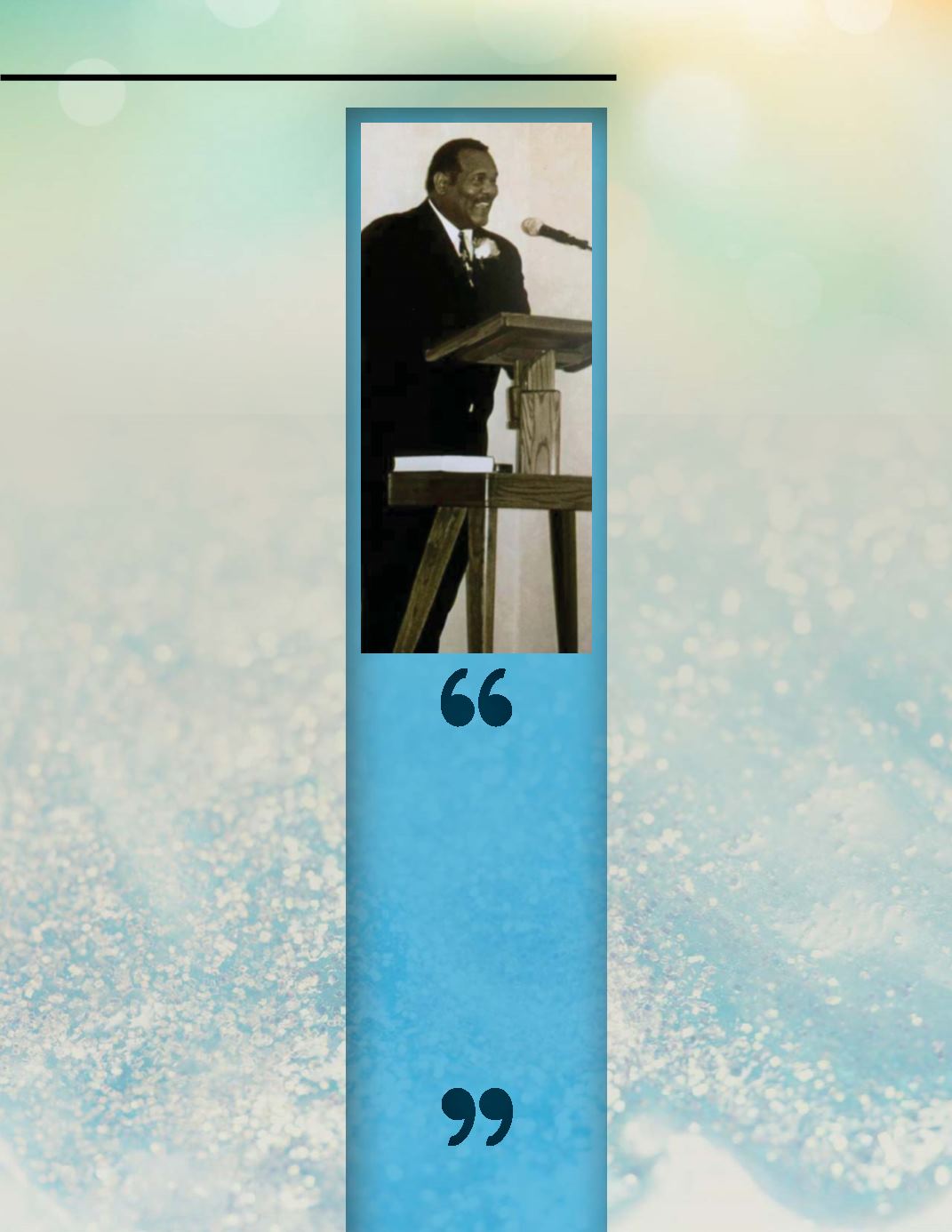 him Sonny, was a big man with
a big personality and a big
ODXJK WKDW ȴOOHG WKH URRP DQG
ȴOOHG P\ KHDUW +H ȴOOHG WKH
hearts of many people as over
300 attended his funeral, and
nearly that many again on the
phone lines of the friends who
could not attend in person (we
had maxed out the hall).
He was a Christian minister
of Jehovah God, a wonderful
father to our three children,
a really FUN Papa to our
grandchildren
and,
of
course the love of my life ...
my
whole
life!
My
friends
and
family
supported me in so many
ways. I felt well taken care of,
as they took me to the beach to
get away from everything for a
while, my sisters in N. Carolina
took me in for a while, I stayed
with one of my sons for a
while; all of that was helpful.
But eventually, I had to go
HOME to my empty space and
face living the rest of my life
without my adoring husband.
(In one of the cards he gave
me on our 45th anniversary
he said, "Sweetheart, after 45
years, I still ADORE you! Love
hubby" and he penned it just
that way) So ... what was I going
to do? Everything stopped
when he died including my
business. Would I pick it back
up again, or let it die too along
with him?
When I was at the beach, I re-
read anold classic book I hadn't
thought about in many years,
"Who Moved My Cheese"
an
excellent read about dealing
with change. Reading this
and other books helped my
perspective and boosted me
emotionally. I feel fortunate that
I have been exposed to personal
development information for
so many years that now helps
me emotionally, along with my
faith in God's promise for a
resurrection. (Isa. 26:19)
Evenings were hard in the
beginning, so I went to the dance
studio 2 nights a week. I thought
that being with a group of other
women who were laughing and
dancing to lively music would help
me emotionally. I took every class
they had! If they were teaching
it - I was taking it! Tap - Jazz -
Ballet - Hip Hop! HA! Imagine
that at my age! Anyway, it helped
me. Eventually I asked the
dance instructor if she would
choreograph a dance I could do in
memory of my husband. I wanted
D VLPSOH GDQFH WR D VSHFLȴF VRQJ
in which the movements would
mirror the lyrics of "
Like I'm Gonna
Lose You
"
by John Legend and
Meghan Trainer, because this song
was so descriptive of what actually
happened to us. She did, and now
I will incorporate this dance in my
speaking presentations whenever
it is requested. It is very well-
received!
My brother-in-law created a 4
foot acrylic wall hanging full of
EHDXWLIXO EXWWHUȵLHV WR GHSLFW P\
emergence from being in a cocoon
for a while and then transforming
into a new person with a new life.
The process of metamorphosis
has been very painful, but a year
and a half later, I feel myself getting
stronger every day. I decided to
pick up my business and this year
is on track to be my best year ever!
Leanne
believes
that
this
experience puts her in a stronger
HE WAS
THE
LOVE
OF MY
LIFE…MY
WHOLE
LIFE.
SOAR TO SUCCESS
/
M
ARCH
2017
/
Feature Article