When I was a little girl I often stood out in a room because of my bright red hair and freckles that almost connected!  During my childhood I was never allowed to wear red or pink because of my red hair and coloring. I remember all the other kids had beautiful red dresses at Christmas time that I had admired so much!
Have you ever been told there is a specific color you should never wear?
For some of my clients it was yellow, and others it was beige or orange. For me, it was red and pink. While that may be very true, did you know that every color has an undertone and if you find the right one you may very well be able to wear it!  It wasn't until much later in my adult life I learned this! What I realized was red can actually be very flattering on everyone. You just need to find the right red for you!
So how do we determine the right one? It can be challenging because there are so many different hues. For example, shopping for a black pair of pants to match a black jacket you already own should be simple; black is black, right!?  Wrong, black is one of those tricky colors. Red is another, not because of the shade but rather because of the colors it has been mixed with.
Red is a primary color, and the balance of blue and yellow mixed with it is what determines that red. Colors have undertones and understanding this will help you choose the right shade for you. Typically, warm colors have undertones that are orange, yellow, or red.  Cool colors have undertones that are green, blue, or purple. If you're not sure about analyzing the undertone, just figure out if the color looks and feels warm or cool to you, and what kind of energy it has and how it makes you feel.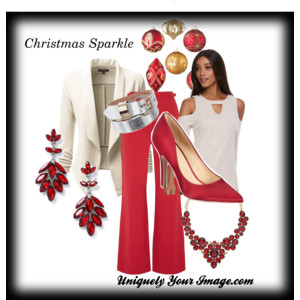 While hair (and eye) color play a part in choosing your colors, your surest way is matching the undertone of your skin. While hair color can change, your skin undertone does not.  Knowing your skin undertone will also help you determine whether your best accessories are gold, and warm metals or silver and cool tones. If you are wearing gold accessories, go with a warm red.  If you are wearing silver, choose a cool red.  Be sure to complete your look with a red lip color of the same undertone.  If red lips seem too bold for you, try this… choose the right (warm or cool) red for you, apply and blot. Now you can take that bold edge off one of two ways.  You can lightly dust with a loose powder, or choose a lip gloss to apply on top. Choose a gold tone lip gloss like beach bronze or a light clear like silver moon. When choosing your red dress this holiday, if in doubt, go with a true red. A true red color has a balance of blue and yellow.
By determining if the color of the garment is a warm or cool undertone, you can find the perfect shade for you!  Use this same concept to create winning color combinations in your entire wardrobe. For more information on determining your skin tone, or your style check out my videos here. Or if you would like help or a free consultation, contact me via email.
Red is a power color. Own it, be bold, be uniquely you and live life confident! Have a happy red holiday!